Our Future is Public (#OFiP22) Conference is taking place in Santiago, Chile from 29 November – 2 December 2022 and will gather social movements and civil society organisations from all over the world for a 4-day Conference aiming at developing strategies and narratives to strengthen public services for the realization of economic, social and cultural rights and tackle the effects of climate change.
The first two days will be devoted to sectoral meetings on health, education, agriculture, economic justice and social protection, energy, food systems, housing, transportation, waste and water. The final two days will bring together all movements and organisations participating in the conference for a collective discussion on cross-cutting themes including the climate emergency, gender equality, economic and tax justice, and democratic ownership.
Civil Society Financing for Development Group (CS FfD) is hosting the Economic Justice and Social Protection Sector Meeting
11:30 AM – 6:00 PM SMT|3:30 PM – 10 PM CET
Background
Half a century of neoliberalism has established a paradigm based on continued extraction of wealth and resources from the global South, and on unlimited economic growth. In this context, public services and social protection systems were largely perceived as a burden for governments and their budgets, better to be commercialised, privatised or outsourced. However, after the numerous crises and destruction it has fostered, the neoliberal paradigm is being increasingly questioned and resisted.
The Covid-19 pandemic exposed the failures of austerity policies and the detrimental consequences of the systemic underfunding of public services for people's lives. It also highlighted how market-based models cannot be relied upon to deliver on human rights. Inequalities within and between countries have been exposed and magnified, while unpaid domestic and care work has once again stepped up to increase the already huge subsidy to the global economy. A complete failure in tackling the environmental and climate emergencies are increasing evidence of the inherent flaws of the current economic model and the urgency of building a different one.
Overcoming global economic injustice is at the very core of any discussion about expanding public services provision, access and sustainable funding/financing. Domestic mobilization of public resources is essential for States to provide financing for universal quality public services and social protection. However, for many countries, efforts to mobilize sufficient resources are undermined by systemic and international issues, including: neocolonial power dynamics in setting global economic policies (for instance, with the dominance of WB/IMF, OECD and G20 in global economic decision-making), unfair trade agreements, unsustainable and illegitimate debt, tax abuse by multinational corporations, tax havens, loan conditionalities and coercive policy advice leading to austerity measures, and a lack of democratic and inclusive decision-making on global economic governance.
Main objectives
Strengthening the global movement working on economic justice and its connection with public service movements.
Developing a collective narrative to mobilize civil society action connecting global demands for economic justice to national and local struggles for human-rights based public services and social protection
Identifying campaigning, advocacy and research opportunities/gaps at different contexts (national, regional and global level)
Advancing on collective analysis, advocacy, communications and campaigning connecting the dots between global economic justice and local/ national / regional / sectoral public services and social protection agendas
Proposed themes/angles
Expanding fiscal and policy space for public services – this includes International Financial Institutions (IFIs) conditions that constrain public sector wage bills as a key austerity policy, and fiscal space for public services and social protection
Debt justice and public services – there are countries that spend more on debt servicing than on education and health. This can be an strategic entry point to call for and accelerate the fight for debt renegotiation / cancellation
The myths around private finance for public services – there is a narrative that supports an increasing role of the private sector – through Public Private Partnerships (PPPs) and other mechanisms, including the privatization of public services – on the basis of the scarce public finance and the efficiency of the private sector. This overlooks the different challenges of the private financing of public services, including its higher costs and fiscal risks, and the fact that they might contribute to increasing inequalities. In practice PPPs often enable the private sector to exploit public finances.
International tax and debt architecture and public services – there is a link between ambitious and progressive tax reforms, debt cancellation/international debt resolution, the financing of public services, and the realization of rights. It is important to discuss how ambitious and progressive reforms of the international tax and debt architecture represent the obvious alternative to austerity.
Universal social protection as a way to advance economic justice, reducing poverty and inequalities. This discussion could include financing possibilities as well as program and design choices, especially the pitfalls of poverty targeted Social Protection programs, which are promoted by the WB and IMF.
Public Services and value creation – Austerity narratives and neoclassical economic paradigms ignore the role of the State and the public sphere in creating economic value. It is crucial to challenge this view and discuss how public services, like education, health and others, don't create a burden to the economy and the private sector but are also capable of generating value and are essential for the functioning of our societies.
Sponsors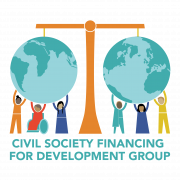 Civil Society Financing for Development Group (CS FfD)
Co-organizers
ActionAid International, Eurodad, Equidad de Genero, GATJ, Latindadd, Society for International Development (SID), Latindadd.